Fun and colourful Patterned Tiles
Classic Telavera Tiles-
Many of the tiles you see in the main photo compilation are inspired by the famous Telavera tradition of handmade and hand painted tiles. It began in the Mexican state of Puebla when the Spaniards introduced the wheel and tin-based glazes back in the 16th and 17th century. The name Talavera was given to this new form of ceramics to honour the Spanish craftsmen from the town of Telavera De La Reina. This city in Spain is widely reputed for its amazing ceramic pottery and colourful tile work.
Telavera Poblana is Mexican Folk Art and this is where we see all of the "Day of The Dead" motifs like skulls, skeletons with sombreros and skeleton brides! These motifs, however are fun in the right place but there are hundreds of other options for decorative tiles made in this tradition. You'll find a huge variety of floral, sealife, abstract geometrics, suns, moons, geckos and other colourful and funky imagery.
These handmade tiles are fantastic for adding a splash of colour to any space but they are often made for the purpose of being a decorative tile. They are not as high fired as floor tiles, so don't have the strength to bare heavy furniture or commercial premises foot traffic. You can get away with very small tiles maybe (5 x 5cm) placed with floor tiles as a spotter feature tile in a residential situation. This is successful as long as it is an area in your home with light foot traffic. The Telavera come in a wide range of sizes and can easily be ordered online or through a variety of local Brisbane and interstate retail shops.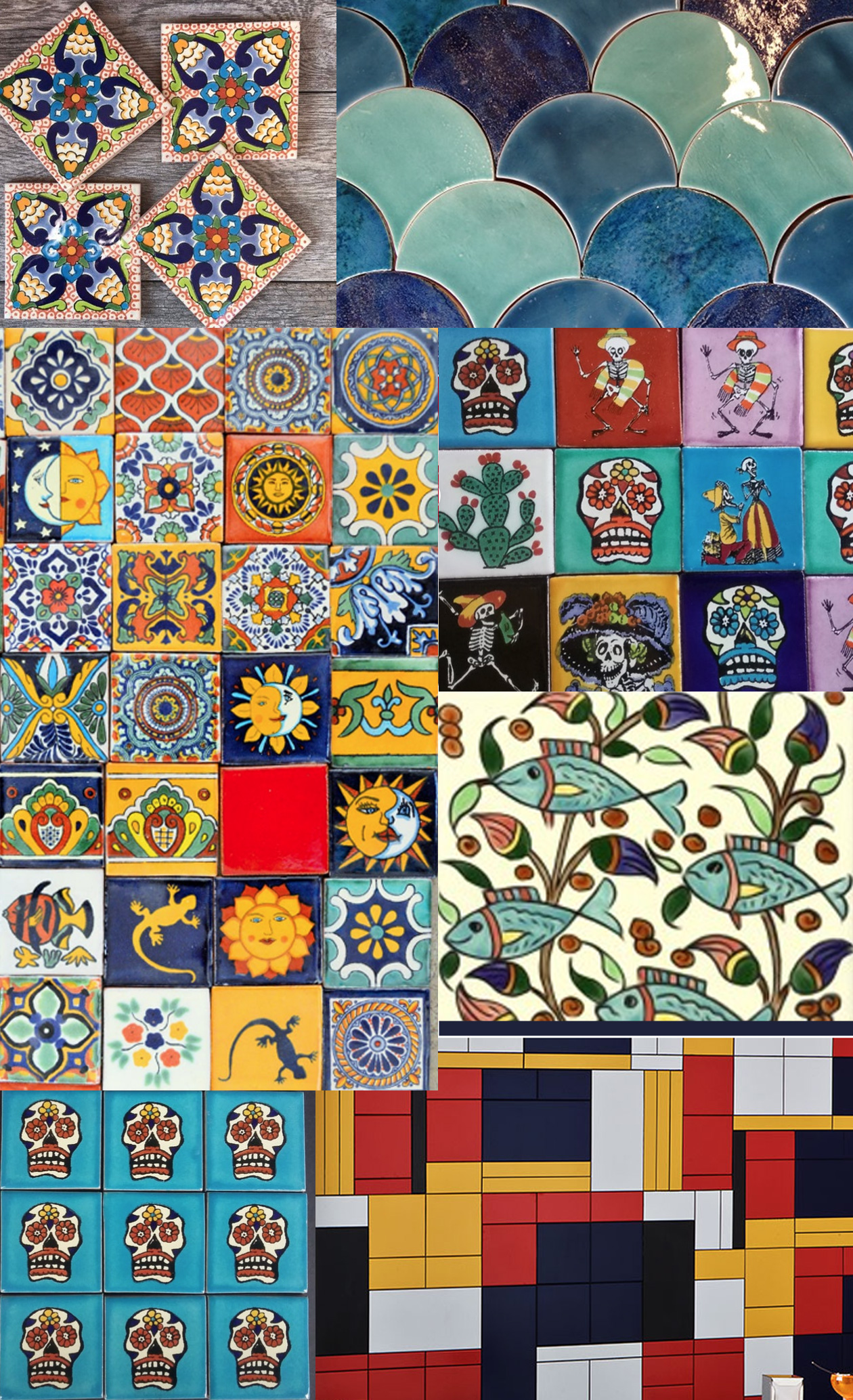 Whether you're looking for Traditional or Contemporary Patterned Tiles, we can bring your dreams to fruition!
As far as laying the handmade tiles onto a wall, there needs to be some allowance for spending time jiggling the tiles into position and moving some around to sit well together. There will be slight variances in size and shape and the grout lines around the tiles will be inconsistent…. They are great if you love the arty, handmade and casual look!
If funky colours and inconsistent shaped and sized tiles are not for you, then consider these options for white tiles in matt or gloss finishes.
If you're looking for…….
Traditional Victorian & Classic Federation Tiles
Pattern Layouts for Traditional & Contemporary Tiling
Great quality workmanship, professional service and competitive quotes
Contac us via phone or fill in the form below. We are often out on a job site and I'll be back in touch with you asap.
Like a Quote? - 2102 1294
(CLICK TO CALL FROM MOBILE DEVICE)